The Hamilton AeroSpace HX-322, is a two place tandem airplane. This airplane combines state of the art composite technology, high maintainability, and outstanding performance figures.
The Hamilton HX-322 was designed with the following major objectives:

All composite airframe. Graphite, and glass with epoxy and aerospace foam


Structural integrity, enabling rugged and austere operations


Twin jet engine configuration.


Design versatility to accept a number of engines.


Excellent speed and maneuvering performance, while retaining business desirable range
The composite airframe is a basic tenet of Hamilton AeroSpace. This technology has several distinct advantages over the dated aluminum rigs, skin, and rivets approach including:

Heretofore unachievable strength and rigidity in a lightweight structure


Simple, low cost tooling, enabling low manufacturing costs, yet the ability to produce large, complex
surfaces and near exact repeatability


Simple repair procedures


Freedom from airframe, salt water corrosion


Very smooth surface for low parasite drag and laminar flow
This airframe was initially conceived with goals of civilian use, and a determination that Hamilton AeroSpace products will never be an entry in the column, in-flight structural failure. Design strength is 12 g's, positive or negative.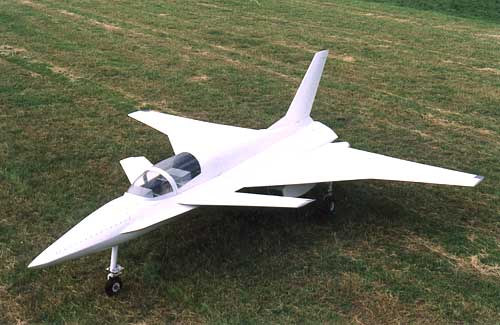 The performance of this airplane, with twin jet configuration, is outstanding, and will prove a superb, fast executive airplane for a variety of general aviation uses.
The tandem seating arrangement, with front cockpit solo capability, was dictated by the performance goals. The nose section has ample space for avionics equipment, including weather radar if desired. Instrument panel and side consoles have adequate room for a normal complement of instruments, avionics, and controls. Conventional mechanical controls, with center mounted stick in both cockpits, will be used. The bubble type canopy will provide 300 degree visibility. Additional equipment/baggage space is available immediately aft of the rear cockpit bulkhead. Control linkage and electrical wiring pass through sealed access ports to provide for cabin pressurization if desired.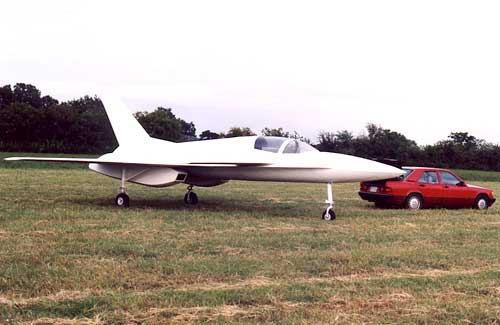 Maintainability of this sophisticated, but simple, airframe was enhanced by the desire to maintain structural unit integrity of the molded composite airframe. All controls, coaxial cable runs, and hard wiring, pass from the cockpit aft through wing root/empennage continuous fairings on either side of the fuselage external to the principal structural unit. The large main fuel cell will be the only item contained internal to the primary structure. Waist high access panels will allow easy inspection or maintenance on all engine/flight utility systems controls, connections, and wiring. All engine and engine accessory parts are outside of the primary fuselage structure. Total engine access is enabled by simple removal of the top and bottom cowl units. Avionics are totally contained in the nose section of the airplane, shelf mounted and accessible through quick opening access panels. Design data are tabulated as attached preliminary.
Hamilton AeroSpace
HX-322
| | |
| --- | --- |
| DIMENSIONS | |
| Wing Span | 29' 4" |
| Wing Area | 180 s.f. |
| Overall Length | 33 feet |
| Overall Height | 11 feet |
| | |
| SPECIFICATIONS | |
| Power Plant | 2 x 800 + lbs. of thrust |
| Wing Loading | 22.33 lbs/s.f. |
| Empty Weight | 2,200 lbs. |
| Gross Weight | 4,020 lbs. |
| Useful Load | 1,820 lbs. |
| Fuel Capacity | 400 gal |
| | |
| PERFORMANCE | |
| Take Off Distance | 1,500 feet |
| Landing Roll | 1,100 feet |
| VMAX | 468 MPH |
| Cruise Airspeed | 400 MPH @ 30,000 ft. |
| Service Ceiling | 30,000 feet |
| Rate of Climb | 3200/3600 (at sea level recommended airspeeds) |
| Range | 2,400 Statute Miles |
| Endurance | 6 Hours |
| | |
| RECOMMENDED AIRSPEEDS | |
| Rotation | 82 MPH |
| Approach | 95 MPH |
| Stall Airspeed | 68 MPH (Landing Configuration) |
| | |
The HX-322 by Hamilton Aerospace is an all-composite, twin engine cranked arrow wing - canard business aircraft kit plane. This aircraft was designed for the pilot/businessman in mind. It is capable of high speed long range, with comfort in mind. The twin engine layout affords safety that no other kit plane provides. The cockpit layout provides for front or rear full IFR capability. A large amount of baggage can be carried.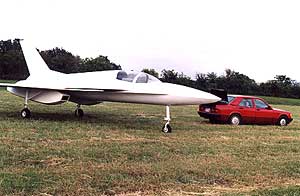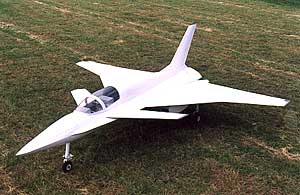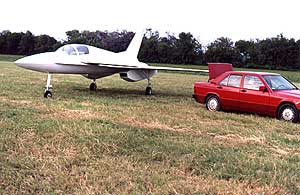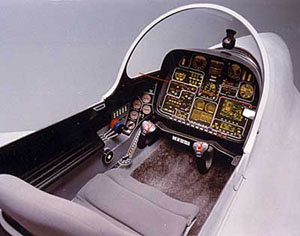 BACK
HAMILTON AEROSPACE
George D. Hamilton
C.E.O.
1194 Wharton's Dock Road
1-830-796-3209
E-mail: george@hamiltonaerospace.com
---